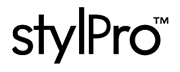 STYLPRO Spin & Squeeze
2-in-1 beauty sponge & brush cleaning tool
What you need to know:
Thorough cleansing of brush bristles and makeup sponges
Removes makeup, dirt, bacteria and stains
Keeps makeup tools fresher for longer
Cleaned and dried, ready for use again after one minute
Saves time and money with a quick and fast routine
Uses a washing machine effect to spin off dirt
The STYLPRO Spin & Squeeze combines the power of the STYLPRO Original Makeup Brush Cleaner and the revolutionary STYLPRO Squeeze Makeup Sponge Cleaner to make an efficient 2-in-1 beauty cleaning device.
Say goodbye to time-consuming manual cleaning; it cleans the beauty tools ready for use again in under a minute. The StylPro cleansers soak into the deep layers of the beauty tools to remove bacteria, stubborn foundations, bacteria and general dirt.
The STYLPRO Sponge presser squeezes sponges *five times harder than hands*. The more you care for your makeup tools, the longer they will last and maintain their quality. This is better for our pockets, the environment and general facial hygiene, resulting in flawless skin and smooth makeup application.
It's as simple as
How to use STYLPRO Spin & Squeeze: for makeup sponges:
Step 1: Soak dirty makeup sponges in 20ml of Sponge Sparkle Vegan Cleanser
Step 2: Use the sponge massager to squeeze and work in the cleanser
Step 3: Fill hot water to the line in the bowl; using the open press, knead the sponge against the bowl and work up the bowl sides.
Step 4: Wait a full 60 seconds, then use the press to give it one big squeeze to remove all liquid.
Step 5: Then attach the pebble and spin the sponge to ensure it is as good as new!
It's as simple as
How to use STYLPRO Spin & Squeeze: for makeup brushes:
Step 1: Select the appropriate brush collar to fit your makeup brush.
Step 2: Pour sachet of vegan brush cleaner into bowl.
Step 3: Continue to dunk brush in the liquid.
Step 4: Turn on the StylPro pebble device and hold it in the bowl for 10 seconds.
Step 5: For another 10 seconds, let the brush continue to spin but just above the liquid.
Step 6: Depending on how thorough you like to clean them, you can repeat this process.
Need some help?
Our friendly experts are here to help you to find your perfect beauty device.