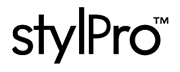 STYLPRO Glow & Go LED Travel Mirror
Dimmable, travel-friendly mirror
What you need to know:
Apply makeup and skincare with LED lights
10x magnifying mirror for close-up details
Dimmable lighting settings
Pop out the stand for hands-free use
2-hour battery life & USB rechargeable
Use daily or on-the-go for makeup application
Take the STYLPRO Glow and Go LED Travel Mirror with you anywhere for applying makeup on the go. With dimmable light settings and a pop-out stand, prop the mirror up anywhere and anywhere to fix your look. Get a closer look with the mirror's magnetic 10x magnifying mirror.
You can position it wherever you want to on the front of the mirror to perfect those all-important details. A full charge lasts for 2 hours and is rechargeable with the included USB cable. When you're finished, pack it away into its protective sleeve and pop it into your bag or suitcase for the next time you need it.
It's as simple as
Step 1: Remove the mirror from its protective sleeve.
Step 2: Pull the stand out and place near natural light.
Step 3: Place the magnifying mirror on the front of the mirror for a closer view.
Step 4: Turn off and put away when finished.
Need some help?
Our friendly experts are here to help you to find your perfect beauty device.