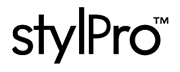 STYLPRO Glow & Behold Mirror
Portable & dimmable mirror with attachable phone holder
What you need to know:
Bright LED lights for perfecting your look
Look closer with the magnetic magnifying mirror
Turn down the brightness with dimmer settings
Fold-away stand and USB rechargeable
Snap a selfie with the phone holder
Use daily for applying makeup or skincare
Consider this a must for your next staycay or vacay, because we all know there's nothing worse than bad lighting when you need to do your makeup, tweeze or apply your eyelashes.
The STYLPRO Glow and Behold LED Travel Mirror has dimmable light settings, so you can always get the best view. With the fold-out stand, prop the mirror up anywhere for flawless makeup application.
Pop on the magnetic magnifying mirror to get a closer look at what you're doing. Then when you're finished, snap the perfect selfie with the attachable phone holder.
It's as simple as
Step 1: Remove the mirror from its protective sleeve.
Step 2: Fold out the stand and position near natural light.
Step 3: Attach the magnetic mirror for a magnified view.
Step 4: Then, place your phone on the hooks to take a selfie.
Need some help?
Our friendly experts are here to help you to find your perfect beauty device.